If you're planning on moving house soon and you're going to be doing it yourself, have you thought about what you'll do if it's raining on the day? Or, maybe your moving day is just a few days from now, and the weather forecast is predicting wet weather.
Moving house can be stressful enough without having to contend with damp conditions. There is a lot to do, organise and coordinate already, but if it's also going to be raining, there will be even more things to consider when moving house in the rain.
Even if you've got your heart set on doing all the work yourself, perhaps to save a few dollars, if there is the possibility of it raining when you plan on moving house, you might want to consider hiring professional removalists to do the job.
There is a lot to think about when moving house, so we have compiled some of our best moving house tips for wet weather conditions, including protecting your furniture from rain when moving it on or off the truck.
Rainy Moving Day Preparation
Something you should do in the lead-up to moving day is to regularly monitor weather reports, as the prediction for the day will become more accurate as it looms closer. If you're lucky, the rain won't come, but if it does sound inevitable that you'll be moving house in the rain, is the forecast for light rain, heavy rain or scattered showers? It's important to know exactly what you'll be dealing with.
Next, you'll want to have plenty of plastic on hand in the form of large garbage bags as well as sheets of plastic. Things like clothing and other household items can be packed in garbage bags to protect them from the wet weather, and sheets of plastic can be used for protecting furniture from rain when moving items to and from the truck. Small suitcases and boxes can also be wrapped up in protective plastic. Tarps will also come in very handy on the day.
When moving day arrives, you won't want to be trudging all through the house dripping water while gathering up boxes and items of furniture. To avoid this, shorten the distance by stacking everything in the living room or in the garage if there is space. You can do most of this in the lead-up to moving day, and it will make the moving process easier and faster whether it's raining or not.
Gather up as many old towels and rags as you can get your hands on. These can be used to wipe water off items or to cover them, to clean up water on the floor and for people to dry off with. When moving in the rain, it's a good idea to wipe down each item as it's loaded into the truck, so you'll want plenty of material for this.
How to Protect Furniture and Belongings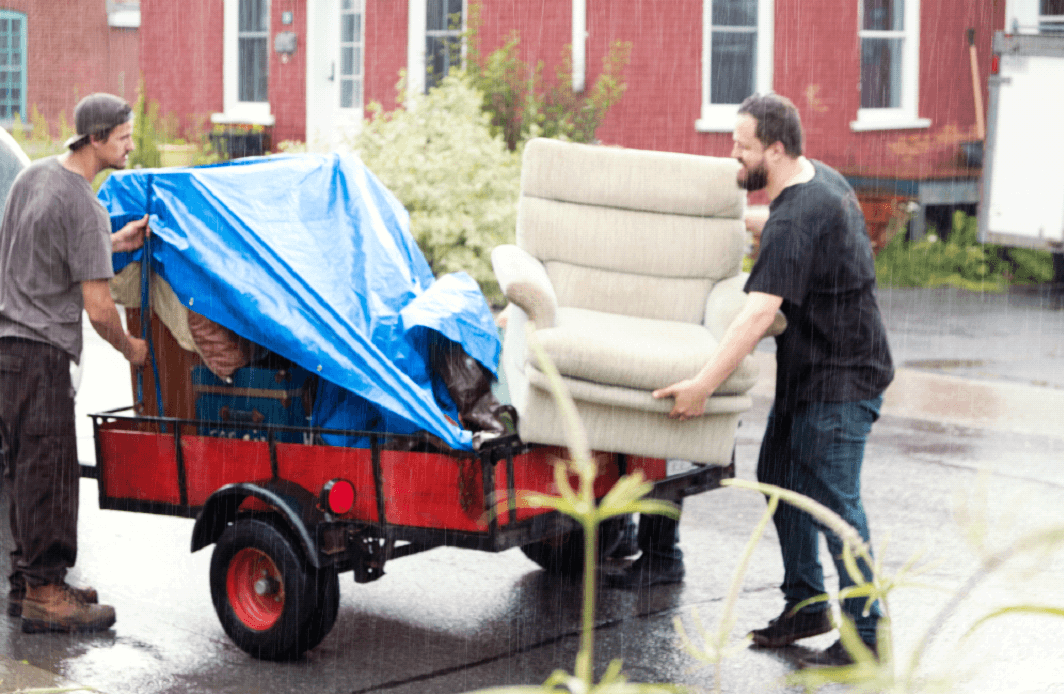 Protecting furniture from rain when moving is very important. Items like mattresses and lounges covered in material won't fare well in a downpour. Having a collection of garbage bags, sheets of plastic and tarps is our crucial moving house tip for wet weather conditions. Plastic tarps and sheets of plastic work well to protect large furniture items. For example, plastic sheeting can be draped over mattresses and taped in place to keep the water out.
Electrical items and appliances should all be wrapped in protective plastic and well-sealed. Ideally, you'll still have the original boxes for packing TVs and other electrical items. Once packed inside the box, it's still wise to add a layer of plastic over the outside for further protection.
Protecting furniture from rain when moving is further enhanced if you have someone wiping furniture down with dry towels or rags as each item is loaded onto the removalist truck. Even if items are covered in plastic or tarps, this will vastly reduce the amount of moisture finding its way inside the truck and on the items themselves.
If you're doing the move yourself and you're hiring a truck, you won't want the floor of the truck getting all wet and potentially damaging your furniture and other items. Therefore, place sheets of cardboard on the truck bed to soak up the moisture.
Once the truck arrives at the new destination, unpack everything straight away and once again spend some time wiping items down so they are nice and dry inside your new home. If there is an empty garage at the new location, this will make an ideal spot to wipe everything dry before hauling items into the house. 
Minimising Risks When Moving in the Rain
Moving house needs to be done with precision and care so nothing gets damaged or dropped and no one sustains an injury. In rainy weather, the hazards are increased. With this in mind, let's look at some wet weather moving house tips to minimise risks.
Everyone involved in the move should be wearing suitable footwear. Forget thongs or bare feet. Enclosed shoes or boots with non-slip rubber soles should be worn at all times to prevent slip-and-fall accidents that can cause injury and damage to furniture.
Footwear is not the only clothing consideration. Wearing wet weather gear will also be necessary as getting wet from the rain is going to be unavoidable when loading and unloading the truck. You might want to wear a raincoat and gloves that have rubber palms for more traction on wet items.
Moving house in the rain is made safer when you place absorbent mats, towels or cardboard on the floor in the entranceway to the house. This will keep shoes dry and also reduce the chance of anyone slipping on a wet and slippery tiled floor. Outdoors, if there are areas of the pavement or driveway that are a little slick, pour sand on these patches for added grip underfoot.
Follow these moving house tips for added safety in wet weather.
Why Hire A Professional to Move House in Wet Weather?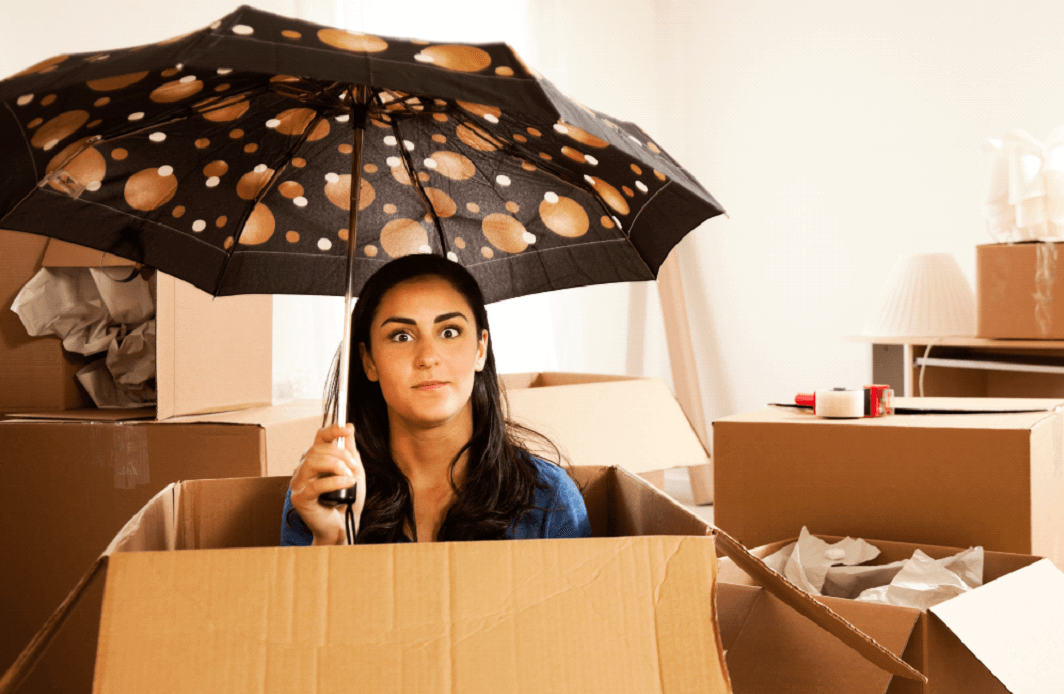 If there is no avoiding moving house in the rain, you should seriously consider hiring professional removalists, even for single-item moves. One of the main reasons this is advisable is that moving companies like Ready Movers have loads of experience in wet weather moves.
Professional removalists understand exactly what's required during a wet weather move and will also come equipped with items to help protect your furniture and other household possessions from inclement weather.
As talked about in the section above, there are added safety concerns and hazards associated with moving house in the rain. Trained professionals are experienced in all types of moves and know exactly how to haul furniture, boxes and other items safely and carefully in all conditions.
The moving process will also be accomplished faster and more efficiently with experts on the job. This reduces the amount of exposure furniture and possessions will have to wet weather. House moving professionals such as Ready Movers will ensure all of your possessions arrive at your new location in pristine and dry condition. 
Expert Rainy Day Home Removalists at Ready Movers
If it looks like you're going to be moving house in the rain, follow these tips or contact Ready Movers to assist with your move. Even if it is just a chance of rain, it is good to know your options. Get in touch with us for a free quote, as well as advice on what you can do to prepare. We can also supply all of the moving boxes and packing materials you'll need.