If you are moving house soon, there will be a lot to organise and much to get done. From planning to packing, organising a removalist, changing addresses, the list goes on. One way to ensure the move is stress-free and goes without incident is to get started early rather than leaving everything until the last minute.
One of the greatest challenges with any move is making sure that all of your furniture and possessions arrive at your new destination undamaged. Items are most at risk when they are being carried or transported in the removal truck. Fragile items are at even more risk of getting damaged or broken, so the solution is to ensure everything, especially fragile items, is well-packed.
This article will be focusing specifically on how to pack fragile items. For example, how to pack glasses, how to pack TVs, mirrors, plates and so forth. Once you know how best to pack fragile items, you'll have total peace of mind when the moving day arrives.
You can even contact your removalist in Brisbane and ask for advice on packing fragile items or have them do the packing for you.
Fragile Item Packing Techniques
If fragile items are packed and handled correctly, there is almost no chance that anything is going to get damaged or broken. By following some handy tips and packing techniques, your fragile items will be transported to your new home without incident. Let's take a closer look at how to pack fragile items.
The right packing materials
Many moving companies, such as Ready Movers, can supply you with packing materials. When you purchase supplies from a removalist, you can be sure the quality of the packing materials will be up to the task. For fragile items, you'll want a good supply of bubble wrap, foam padding, packing paper, packing peanuts (small pieces of Styrofoam), plus sturdy boxes, packing tape, scissors and so on. Wrapping fragile items up in the right materials will provide cushioning and protection during transit.
Wrap items individually
Rather than grouping fragile and breakable items together, each item will be better protected when individually wrapped. You'll also need to ensure that every part of the item is sufficiently covered.
The right boxes
While you can certainly pack more than one fragile item per box (depending on the size of the item), some items are better served by having their own box, so choose one that's the right size. The box needs to allow enough space for the item, as well as the packing material that surrounds it. You'll want to avoid boxes that are too big, where items can move about during transit.
Layering is important
When figuring out how to pack fragile items, layering is very important when packing a box with multiple items. At the base of the box, form a layer of cushioning material, either with packing peanuts, crumpled paper, foam or even bubble wrap. Place the wrapped fragile items on top and keep layering as you go with more cushioning material.
Divide and separate items
Along with layering, when packing multiple items in one box, it's a good idea to separate and divide each item for added protection. This can be achieved by using cardboard inserts or boxes with partitions. Not only will this prevent items from coming into contact with each other, but it will also prevent items from moving about.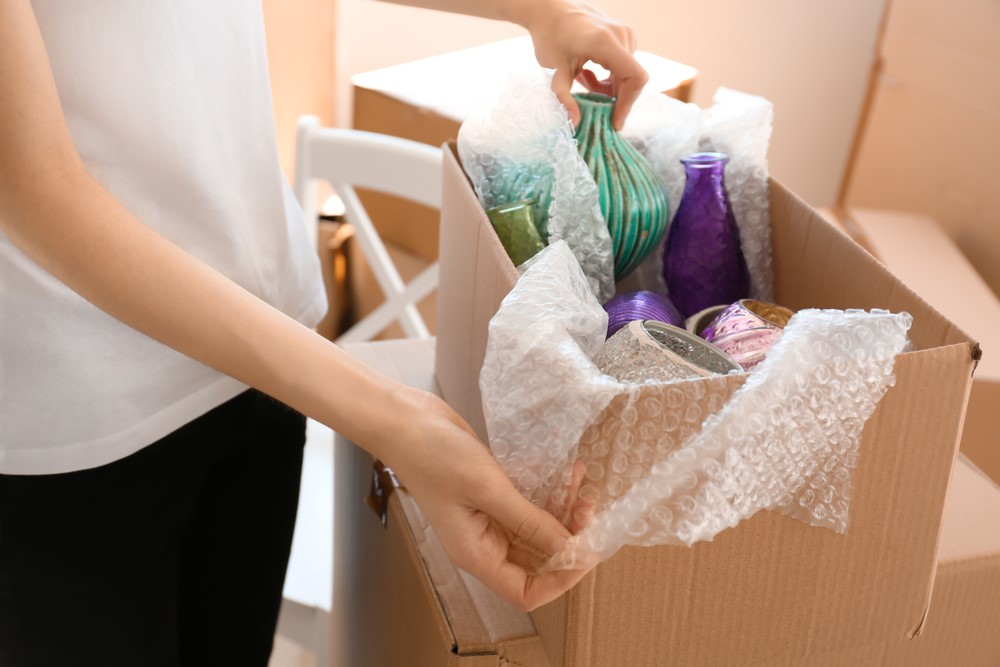 Packing Tips for Individual Fragile Items
Not all fragile items will be able to be packed the same, some may require extra padding or support to ensure they arrive at your new place in the same condition. Here are some tips on how to pack individual fragile items:
TVs
Ideally, you'll still have the original box and packing materials that the TV came in when you bought it. If so, simply pack the TV exactly as it was when purchased. If not, you can securely wrap your TV in bubble wrap, taping it in place so the wrapping doesn't move. For an added layer of protection, place sheets of cardboard all around the TV and tape them in place.
Glasses
You could use boxes with cardboard partitions of the right dimensions. This is an easy and secure way to pack and move glassware. Alternatively, wrap each glass separately with wrapping paper, placing each glass upright in a strong box. Fill gaps between the glasses with crumpled paper, foam or packing peanuts. This is how to pack glasses with two simple methods.
Mirrors and glass picture frames
You'll want to use either foam or bubble wrap to cover glass picture frames and mirrors. Ideally, for safe transit, pack mirrors and frames in artwork boxes, reinforcing the corners with additional padding. Talk to your removalist for additional tips on how to pack fragile items like mirrors.
Plates
You can safely pack plates by stacking them and placing packing paper or bubble wrap in between each plate and wrapping it all around the plate. To prevent cracking, place plates vertically inside a box, with a layer of cushioning on the bottom and on the top. Ensure there is no room left for movement during transit.
Lamps
First, remove the lampshade and light bulb from the lamp. Pack these separately with protective materials. You can now wrap the lamp base with bubble wrap and place it in a box with other lamps or fragile items.
Vases
How to pack fragile items like vases? Use bubble wrap or foam to pack vases individually. Ensure the entire vase is covered in protective material before placing it into a box with more padding.
Extra Packing Tips for Fragile Items
Here are some extra tips for how to pack fragile items:
Label boxes as fragile
If the boxes you're using don't already have the word "fragile" printed on them, use a marker pen and clearly label each box with the word fragile and "handle with care".
Heaviest items at the bottom
If you're packing a box with a combination of fragile and regular items, always place the heaviest and sturdiest items on the bottom and fragile, lighter items on the top. Also, don't over-pack boxes and make them too heavy.
Labelling and inventory
Have a notepad with an inventory of your fragile items. Label each box according to your inventory. This way, you'll know exactly where each fragile item is located.
Consider custom crating
Custom crates or boxes are designed to fit the exact dimensions of the fragile item you wish to move, providing maximum protection.
Secure box lids
Securely tape up the lids on each box, as well as reinforce box edges and joints. Make sure items don't shift around inside the box before taping them closed.
Use a professional packing service
Removalists like Ready Movers offer a professional packing service. To guarantee all of your fragile items are packed and moved safely, it can be wise to employ the services of industry professionals.
Consider insurance
You might want to consider insurance when moving items that are fragile or particularly valuable, just for added peace of mind.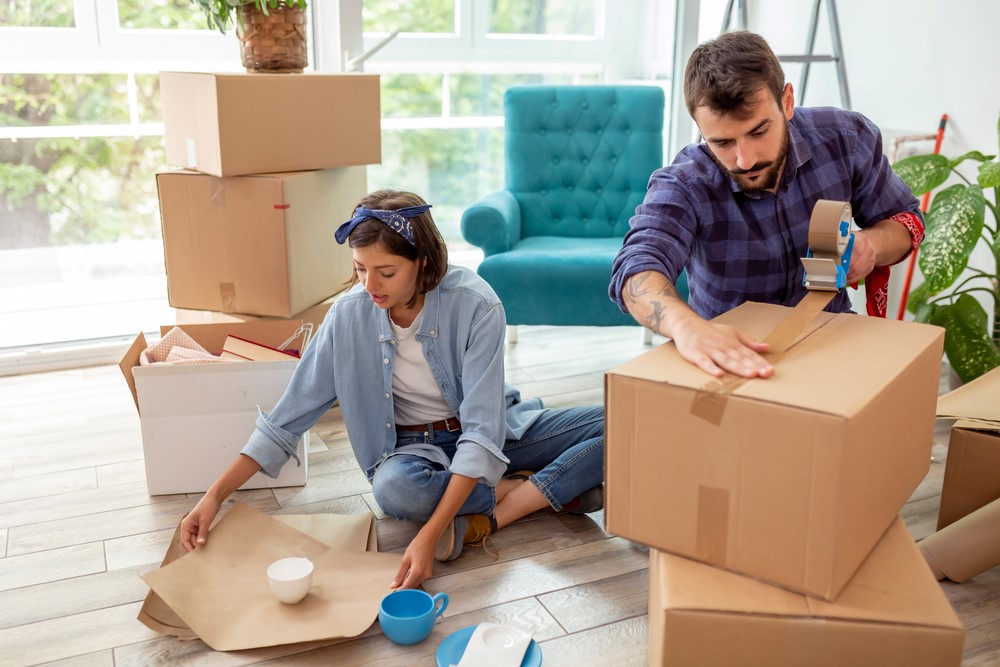 Fragile Item Packing at Ready Movers
For more information on how to pack fragile items, how to pack glasses and more, contact the experts at Ready Movers. If you prefer, we can do all the packing and unpacking on your behalf, as well as safely and efficiently relocate all of your furniture and household items to your new destination. Give us a call today and chat with our friendly team.