Moving house is one of the most stressful experiences in life. However, moving house with pets can add even more stress.
As any pet owner knows, the well-being of our beloved animals is a top priority, and the concept of uprooting their lives and routines can be daunting. 
This article will discuss how to notice signs of stress in your pets, how to prepare for the big move, how to settle them into their new home and how professional removalists can help take the stress out of the equation.
Whether you're relocating to the other side of the city or across the country, let's explore ways to minimise stress and maximise comfort for both you and your pets during this exciting time. 
Preparations Before the Move
When moving house with a dog and cat, preparation is key. Here are some things you can do to minimise stress before moving day. 
Take Your Dog to the New House and Neighbourhood
If possible, before moving day, take your dog to the new property to allow them to sniff and look around. If a park is nearby, take your dog there for exercise and more sniffing.
Doing these two things will familiarise your dog with the smells when it comes time to move. 
Don't Show Signs of Stress
Animals are smart, especially cats and dogs, as they can read body language and get a sense of how you're feeling. 
If you're feeling stressed, your pets will also begin showing signs of stress. Some signs of stress in dogs include 
Panting

Pacing back and forth

Ears pinned back 

Licking their lips 

Hiding
Some signs of stress in cats include 
Hiding more than usual

Eating or drinking less

Excessive meowing

Hissing or growling 

Becoming less tolerant of people
To avoid stressing out your pets, it's important to manage your stress when moving houses too, and this can include hiring removalists to do the job for you. 
Update Your Pet's Tags and Microchip 
Moving is a stressful time in anyone's life, and things can get lost, including pets. 
So, before you move, update your cat or dog's collar tag as well as their microchip details with your new address in case they go missing after you move. 
Hiring Removalists
One way to ensure you and your pets have low stress levels when moving homes is to hire removalists. 
At Ready Movers, our removalists are professional and efficient, so you can have peace of mind knowing you and your pets will be stress-free during the move. 
Tips on Reducing Stress for Moving Day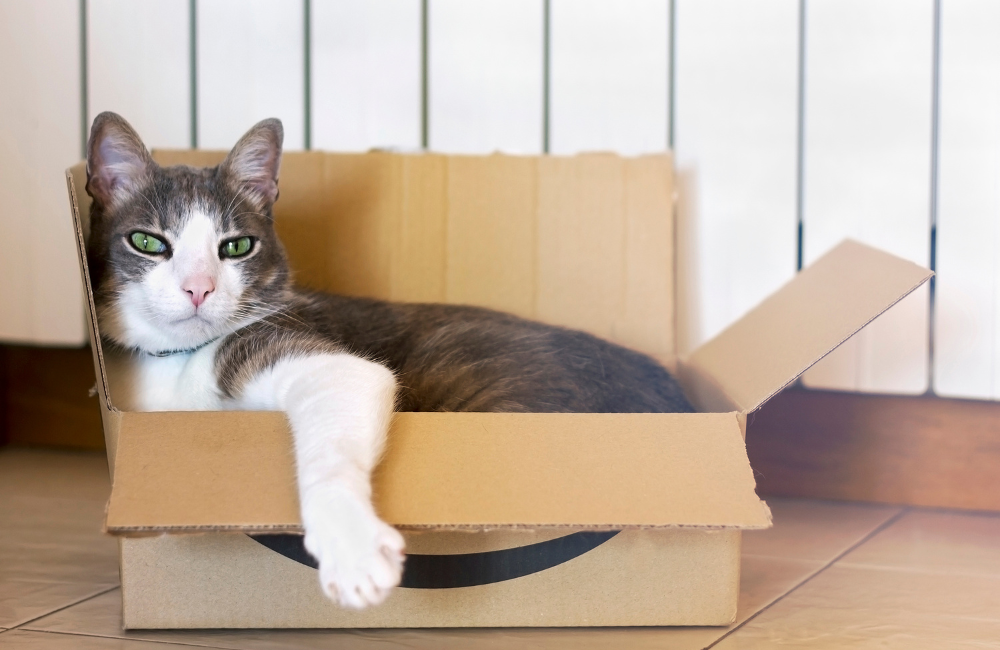 When the day finally comes to move houses, it's best to leave your cat or dog with a friend or family member for the day.
Doing this means your pets are out of the way of the removalists and won't be stressed with all of the packing and moving that is going on. 
However, if you can't leave your pet with a friend or family member, the best thing to do is secure them in one room with enough food, water and a toy to keep them occupied. Make sure to check on them every so often to ensure they're okay. 
When you leave your old house and drive to your new one, make sure you have an appropriate way to transport your pet, for example, a cat carrier. 
Adjusting to Their New Home
Once you're all moved in, it's time to introduce your cat or dog to their new home. 
How Dogs Adjust to New Homes
When moving house with a dog, the best way for them to adjust is to let them explore each room in their own time. 
They'll be interested in all the new smells mixed with the familiar ones of your furniture and their bedding and toys. 
If you're letting your dog out to explore the backyard, make sure the fences are high enough, so they can't jump over and there are no holes underneath for them to dig through. 
Once they've explored the house in their own time, reward them for their behaviour with treats or affection. 
How Cats Adjust to New Homes 
When moving a cat to a new house, they can take slightly longer to adjust than dogs.
The best way to help your cat adjust is to keep them in one room for the first few days filled with their usual bedding, food, water bowls, toys and litter tray. 
After a few days, you can gradually introduce them to different areas of the house. Let your cat explore the new rooms at their own pace like you would with dogs. Ensure that all possible escape routes, such as windows and open doors, are secured.
Benefits of Hiring a Removalists When Moving with Pets
Hiring removalists when moving house with pets can be very beneficial. 
Some of the benefits of hiring removalists include 
Reduced Stress for You and Your Pets
It's no secret that moving houses is one of the most stressful experiences in life, and when moving house with pets, it becomes much more stressful.
However, when you utilise Ready Movers' removalist services, we'll take care of all the packing, loading and unloading so you can spend more time comforting your pets. 
Expertise in Handling Pet-Related Concerns
Our experienced removalists have dealt with pet owners before and know how to handle pets during a move. 
We can offer advice and tips on making the transition to your new home as smooth and stress-free as possible. 
Packing and Unpacking Your Belongings
When you engage Ready Movers' team of removalists, you can have peace of mind knowing that we take care of everything from start to finish. 
We quickly and efficiently pack and unpack your belongings, giving you more time to comfort your pets and ensuring they aren't exposed to the chaos of packing and unpacking. 
Time Savings
Moving house is a very time-consuming process, especially if you have lots of belongings to pack up and move.
With our team of removalists, you can save time worrying about packing and unpacking and more time with your pets.
Stress-Free Home Removals with Ready Movers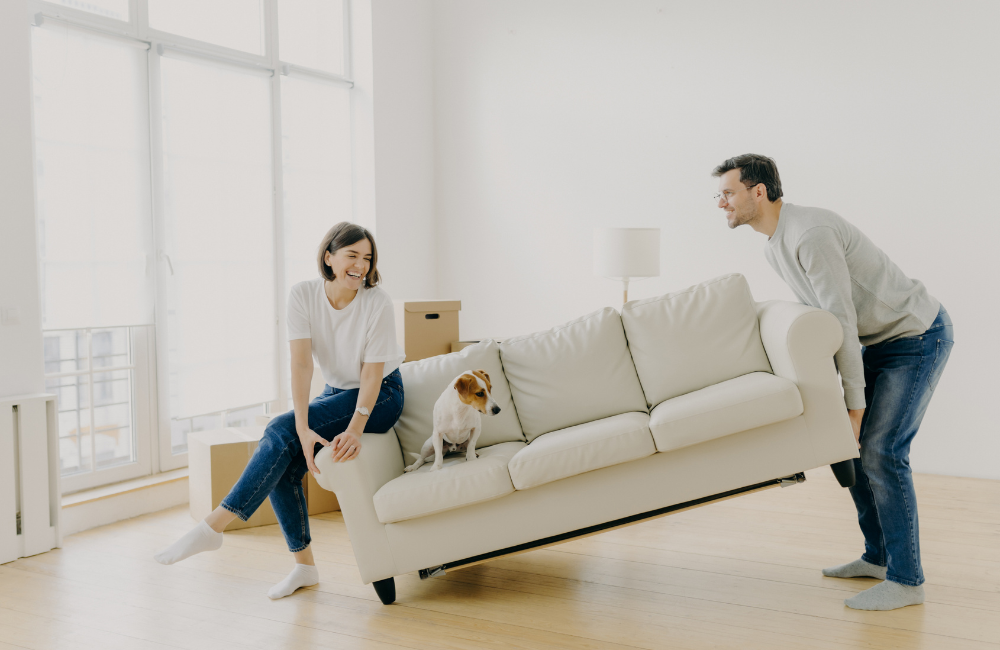 When it comes to moving house with pets, organising removalist services with Ready Movers can be a game-changer.
From reducing stress and providing peace of mind to efficient packing and moving, our team of removalists can make moving home stress-free for you and your pets.
Whether you're moving to another house in the same city or across the country, Ready Movers has you covered. Contact us to see how we can make your move a stress-free one.