When it comes to storage, Brisbane has got you covered with loads of options. Even many Brisbane removalists offer storage facilities or can advise you on some options. This includes Ready Movers, your one-stop furniture removalists and storage experts.
You can find storage for all sorts of things, from boxes of household items to furniture and even cars. The kind of storage facilities you require will depend on exactly what types of items you wish to store. Some items are easy to store and are a no-brainer, but other items require a bit more forethought and storage care.
A TV is one such household item that requires an extra degree of storage care to remain in good working condition. If you're searching for Brisbane storage for one or more expensive TVs, you'll want to factor in things like climate-controlled storage and storage facilities that are free of dust.
This article is going to be taking a closer look at TV storage in Brisbane, how to prepare your TV for storage, the risks of poor preparation, the advantages of climate-controlled storage and why Brisbane removalists, Ready Movers, provide the perfect TV storage solution.
How to Prepare a TV for Storage?
When you're planning to store your TV for an extended period, finding the right Brisbane storage facility is an obvious consideration. However, before you move your TV or televisions to your chosen location, you'll first want to adequately prepare your TV for safe storage. How do you do that, and what's involved?
The very first thing you'll want to do is give the TV a good clean so it's free of dust while packed away and sitting in safe storage. Use a clean microfibre cloth to avoid scratching the unit or the screen. If you really want to go to the next level, you could have a technician open it up and carefully clean away any dust and debris that may have found its way inside over time. If the TV needs any repairs or servicing, now would be the opportune time to have those tasks done as well.
If your TV has been resting on a stand and wasn't hung from the wall, remove the stand and give that a dusting.
The best-case scenario will be that you kept the original box and packaging that your TV came in when you purchased it. If this is the case, then you already have the perfect materials to pack your TV ready for secure storage in Brisbane. If not, then you'll have to improvise a little and package your TV by other means to keep it protected.
One obvious choice is to wrap it up in bubble wrap, securely taping the bubble wrap into position with packing tape. Take things a step further and create an added layer of protection by wrapping cardboard over the top of the bubble wrap, or find a box that it will fit in. Fill up any extra space in the box with soft materials to prevent the TV from moving about during transit to your chosen storage facility.
Although it is not as neat and tidy as having the original packaging, at least your TV will be well protected this way.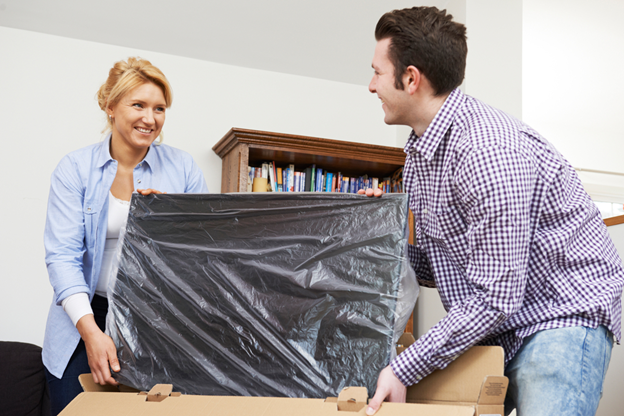 Don't forget to pack any power leads, AV cables, HDMI cables and so on with your television so everything is together when placed in Brisbane storage. If there are screws or fittings for a wall mount, place these in a plastic bag and either put the bag inside the original box with the TV or tape it to the packaging you improvised to protect the television.
Another thing to note is to keep the TV stored in an upright position. Don't lay it flat, as this can place pressure on the delicate screen. Keeping it upright also negates the possibility that anything will be stacked on top of it. Also, make a note on the box or packaging which side the screen is facing.
Risks of Not Preparing the TV Properly
If you don't adequately prepare your TV for storage, such as packing it away in its original box or some other packaging to keep it protected, there is always the risk that the set could suffer some form of damage. Knowing that it's well-packaged, safe and secure will also give you peace of mind.
Cleaning the unit before packing it away means that it will still be nice and clean and free of dust when you do eventually go to use it again. Having it well-packaged means that it can't accumulate dust, and there is little to no chance that any pests or critters can gain access to the TV while in storage in Brisbane. Insects can cause damage to the internal components, and you certainly don't want them nesting inside your television.
Having your TV packed well also guarantees that moisture (including high humidity) can't find its way inside, potentially affecting the electrical components.
Many modern TVs are expensive and should be considered an investment, so it's worth taking the time to prepare them well for Brisbane storage.
Benefits of Climate-Controlled Storage
When considering possible locations for storage in Brisbane, if you really want your TV to be in great health while it's not in use, you should seriously consider a climate-controlled storage space.
What exactly is climate-controlled storage?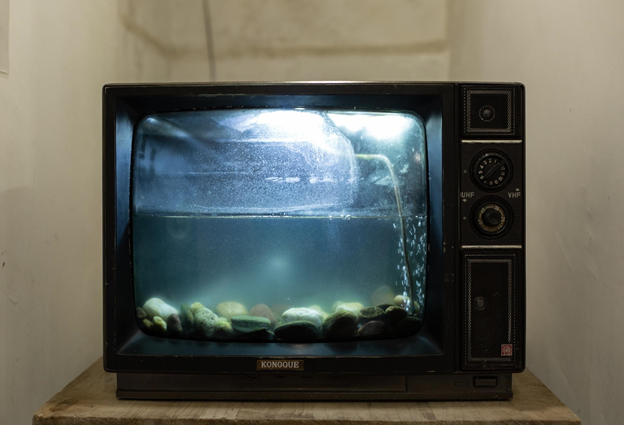 It's like air conditioning for your possessions. In this case, your expensive TV or several TVs. Climate-controlled storage in Brisbane means that both the temperature inside the storage space and the humidity levels are controlled and monitored. These storage units are also insulated to control the internal climate all year round. In a climate-controlled storage environment, your TV won't be subjected to vast temperature fluctuations, which could result in damage to the unit, including warping of the TV case. Your TV also won't be subjected to damp air due to high humidity levels in the peak of summer.
It won't matter at all what the weather is doing outside. Your TV, properly prepared and well-packaged, will be safe and secure in an environment where the temperature and humidity don't fluctuate.
While some household items and furniture are just fine in storage units that don't have climate control, you won't want to risk your TV in such an environment. If you're planning on storing your TV for an extended period of time, then climate-controlled storage is really a must.
Climate-Controlled Storage in Brisbane at Ready Movers
If your looking for Brisbane removalists who offer single items moves as part of the service, then look no further than the team of professionals at Ready Movers. If your prized TV is a big one, call us first, and we'll move it from its current location to our modern storage facility, securely and safely and always handled with care.
Ready Movers are more than just Brisbane removalists. We also offer climate-controlled storage in Brisbane for your TV or other delicate household items. We are your one-stop shop for removals and storage in Brisbane.
You most certainly can keep a TV in storage in Brisbane, and Ready Movers is here to help. We can even pack your TV for you if need be. So, get in touch today about TV storage, furniture removals or any other storage you might need. Our prices are fair, and our service is second to none.